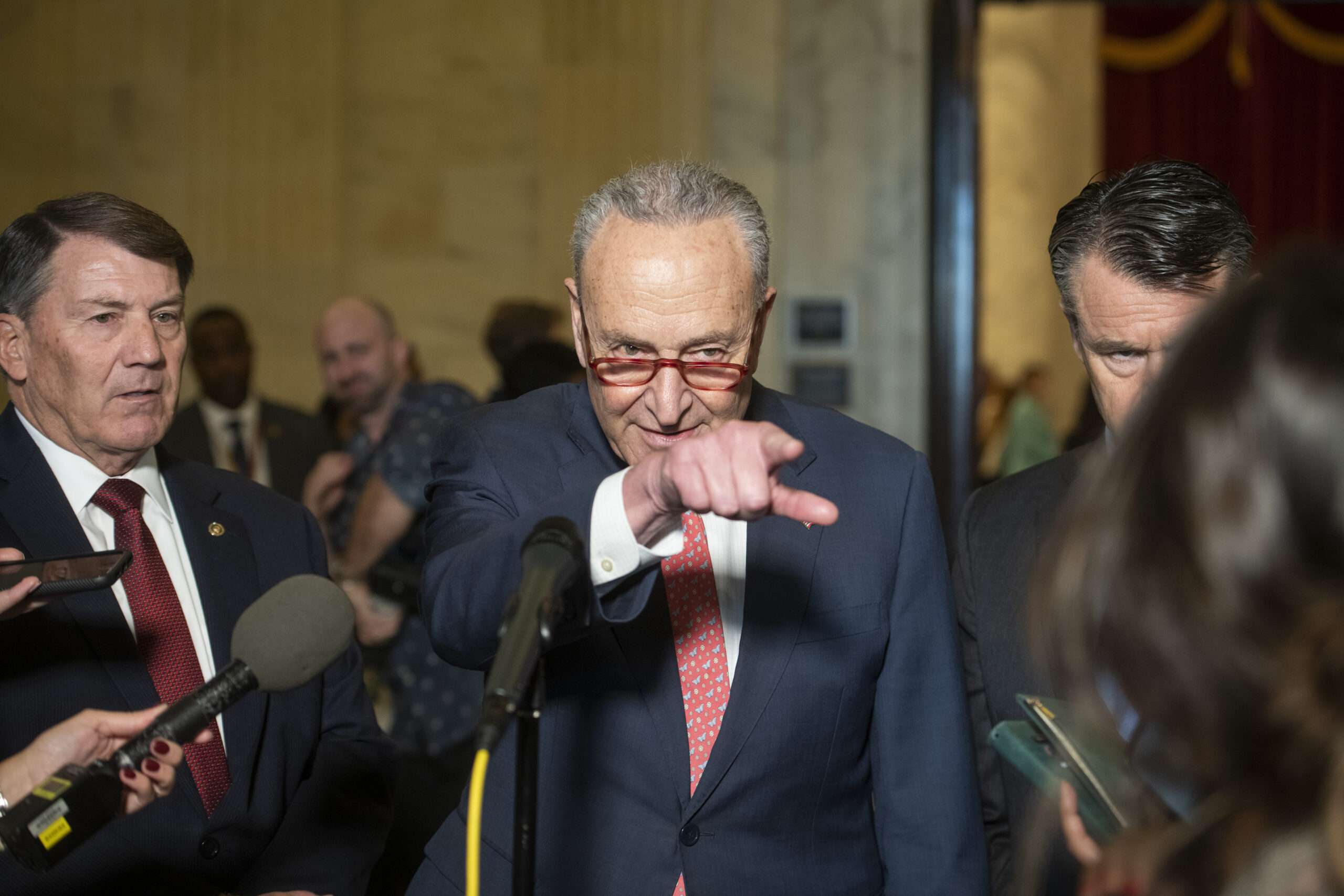 Chuck Schumer's Stance on Top-Down AI Licensing Sparks Debate
President Joe Biden issued a sweeping executive order last month aimed at imposing federal regulations on artificial intelligence (AI) – what Carl Szabo of the tech lobbying group NetChoice called an "AI red tape wishlist." Many observers fear that Biden's requirements could evolve into a centralized, innovation-stifling licensing scheme for new AI systems. As the R Street Institute's Adam Thierer notes, the executive order would "empower agencies to gradually convert [current] voluntary guidance and other amorphous guidelines into a sort of back-door regulatory regime."
That would be just peachy with Sens. Josh Hawley (R–Mo.) and Richard Blumenthal (D–Conn.). Their "Bipartisan Framework for U.S. AI Act," introduced earlier this year, explicitly calls for a "licensing regime administered by an independent oversight body." This A.I. bureaucracy "would have the authority to audit companies seeking licenses and cooperating with other enforcers such as state Attorneys General. The entity should also monitor and report on technological developments and economic impacts of AI."
The senators assert that their framework is necessary to hold AI companies liable when their models and systems breach privacy, violate civil rights, or cause other harms. But is it really?
Senate Majority leader Chuck Schumer (D–N.Y.) hinted earlier this week at an alternative to top-down federal AI licensing. "Duty of care has worked in other areas, and it seems to fit decently well here in the AI model," he said at the AI Insight Forum on Wednesday.
Under product liability tort law, duty of care is defined as your responsibility to take all reasonable measures necessary to prevent your products or activities from harming other individuals or their property.
As Thierer observes, "What really matters is that AI and robotic technologies perform as they are supposed to and do so in a generally safe manner. A governance regime focused on outcomes and performance treats algorithmic innovations as innocent until proven guilty and relies on actual evidence of harm and tailored, context-specific solutions to it."
Common-law torts have a long history of tailoring just such context-specific solutions to the harms caused by new products and services.
In a 2019 report for the Brookings Institution, the UCLA legal scholar John Villasenor outlined how courts applying products liability law could foster the safe development of AI. For example, the makers of AI systems could be held liable if automated post-sale changes in its self-learning algorithms—algorithms aimed at improving its performance—evolve in a manner that actually renders the product harmful, when it is reasonably foreseeable that it might be supplied with "bad data" such that it evolves in harmful ways, and when users are engaging with an AI system in reasonably foreseeable ways. Basically, the idea is that the threat of lawsuits will encourage AI companies to make sure that their products are reasonably safe to use and that they carry warnings about potential dangers.
Of course, America's tort law system is notoriously costly and inefficient. The U.S. Chamber of Commerce Institute for Legal Reform's 2022 report calculated that costs and compensation in the tort system amounted to $443 billion in 2020, equivalent to 2.1 percent of U.S. GDP. But it's better than the top-down licensing alternative. The free market Competitive Enterprise Institute estimated in 2022 that federal regulations cost $1.927 trillion, amounting to 8 percent of GDP.
Thierer finds that common law can more flexibly address and solve any problems that may arise from the adoption of new AI tools. "Various court-enforced common law remedies exist that can address AI risks," he notes in an April study. "These include product liability; negligence; design defects law; failure to warn; breach of warranty; property law and contract law; and other torts. Common law evolves to meet new technological concerns and incentivizes innovators to make their products safer over time to avoid lawsuits and negative publicity."
Here's hoping that Schumer's observation means that he is eschewing calls for top-down AI licensing in favor of more flexible and innovation-friendly common-law governance.