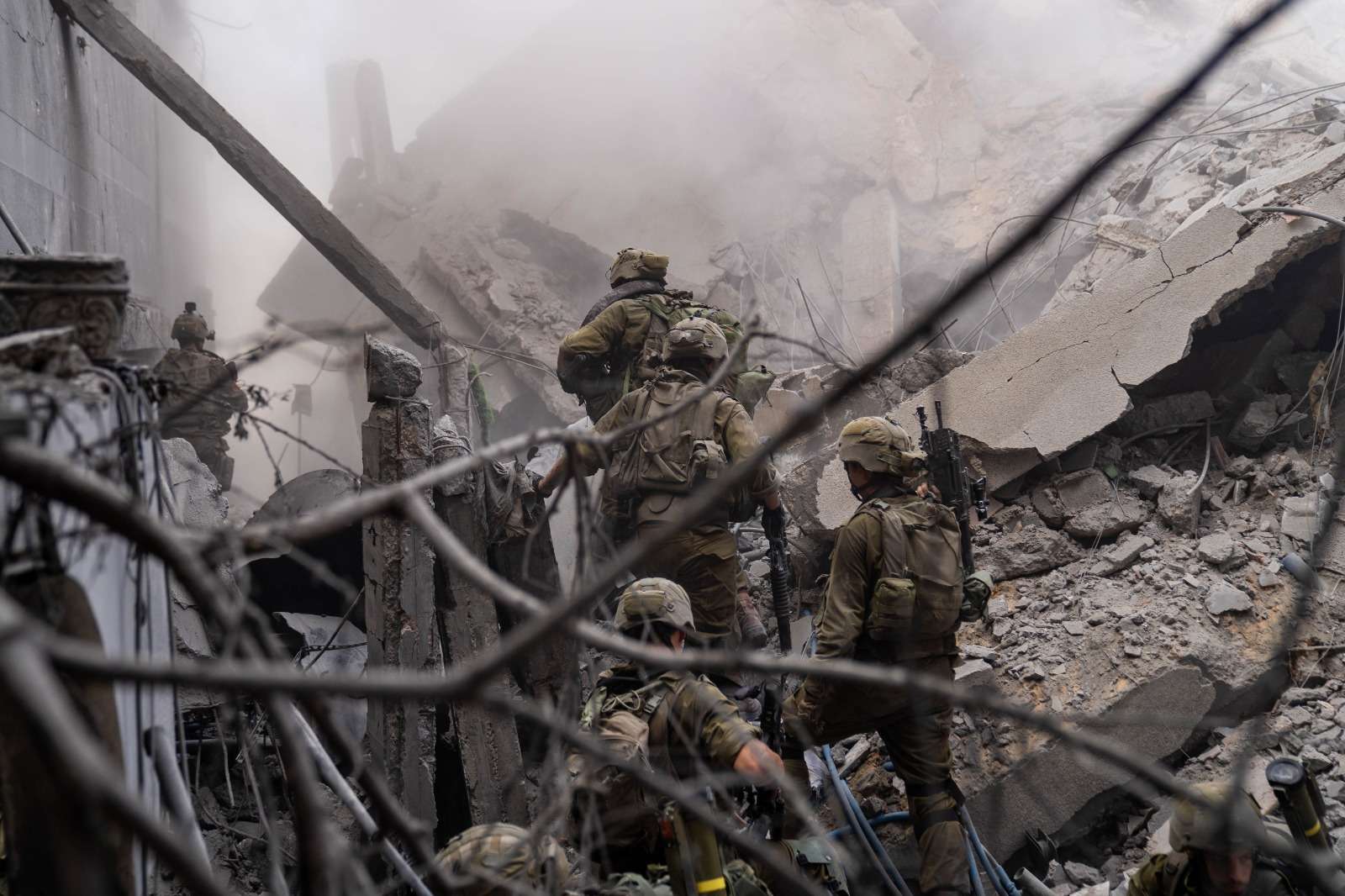 Discovery of Tunnel Beneath Al Shifa Hospital Complex
Under the hospital:
Select journalists were allowed into the Al Shifa Hospital complex yesterday by the Israel Defense Forces (IDF), where they were shown what is purportedly evidence of Hamas operations at and underneath the hospital.
On hospital grounds, there was a concrete and stone shaft that reportedly goes deep underground, with stairs and electrical wires. The IDF believes this is evidence of what they've long known—that Hamas operates out of this hospital, using civilians as human shields, and that tunnels beneath it are critical to the terrorist group's plots. IDF troops have not descended into the tunnel, yet, because of fear of booby traps, but have investigated via drones to try to suss out what lies deep beneath the surface.
Col. Elad Tsury, the commander of Israel's Seventh Brigade, "acknowledged the pressure on Israel to show evidence of Hamas activity at the hospital," according to the New York Times, "but said it might be days before troops descended the shaft."
Tsury also said that "soldiers were methodically searching the complex and had discovered weapons, explosives and computers, as well as the body of an Israeli hostage in a nearby building." The body of another hostage was found earlier today on the hospital grounds.
Elsewhere in Gaza: Palestinian outlets report that an Israeli strike hit the Rafah border crossing between Gaza and Egypt, killing Gazans trying to get to safety. "U.N. aid deliveries to Gaza were suspended again on Friday due to shortages of fuel and a communications shutdown," reports Reuters.
Israel and Hamas appear to be getting close to a hostage deal, brokered by Egypt, the U.S., and Qatar, in which the terrorist group would release 50 hostages—all women and children—and Israel would release the same number of Palestinians—all women and children—who are currently being held in prisons.
McCarthy's clone? New House Speaker Mike Johnson (R–La.) worked with Democrats to pass a spending bill to avoid shutting down the federal government as yet another deadline approached. In order to do so, he refused to champion the massive spending cuts that the fiscally-conservative flank of the House has long been advocating—a move that makes him quite similar to his predecessor, possibly earning similar ire from colleagues within his party.
---
Scenes from New York: "If this resignation leaves a hole in the news the size of poetry, then that is the true shape of the present." But I am not sure many people, even New York Times readers and subscribers, were aware before today that there even was a poetry editor.
As an aside: It is not that hard to devote the tiniest bit of word count to the fact that Israeli civilians were brutally slaughtered on October 7. That seems worth mourning, too, and it would be humane to mention the terrible brutality that set off this most recent round of fighting.
---
QUICK HITS
"

One-third of U.S. newspapers as of 2005 will be gone by 2024,"

reports

Axios.

No need to mourn the death of local news (or worse: support government funding in an attempt to reinvigorate it). Competition sometimes kills, but cool new things always rise from the ashes.

I'm sure this will work:
Must we really give

standing ovations

to Xi?

The Backpage trial has concluded; a jury has found Michael Lacey guilty of money laundering charges but not facilitating prostitution. Reason will have more on this, but there's some background on the case here, here, and here (as well as the obituary Reason's Elizabeth Nolan Brown wrote for Backpage founder James Larkin, who took his own life earlier this year).
A look inside the "town created by Airbnb."
On TikTok, some youths are making videos talking about how misunderstood Osama bin Laden was, and how actually he made some great points. Now, of course, there's lots of freaked-out backlash to these videos. Ben Dreyfuss gets the level of concern about right:
Mary Katharine Ham eviscerates teachers union head honcho Randi Weingarten.
Nobody will ever be as cool as the Terminator: "Speaking over FaceTime, a cigar hung from his mouth as his pet pig, Schnelly, wandered by his feet," writes Politico's Christopher Cadelago.
A rare bit of good housing-policy news: