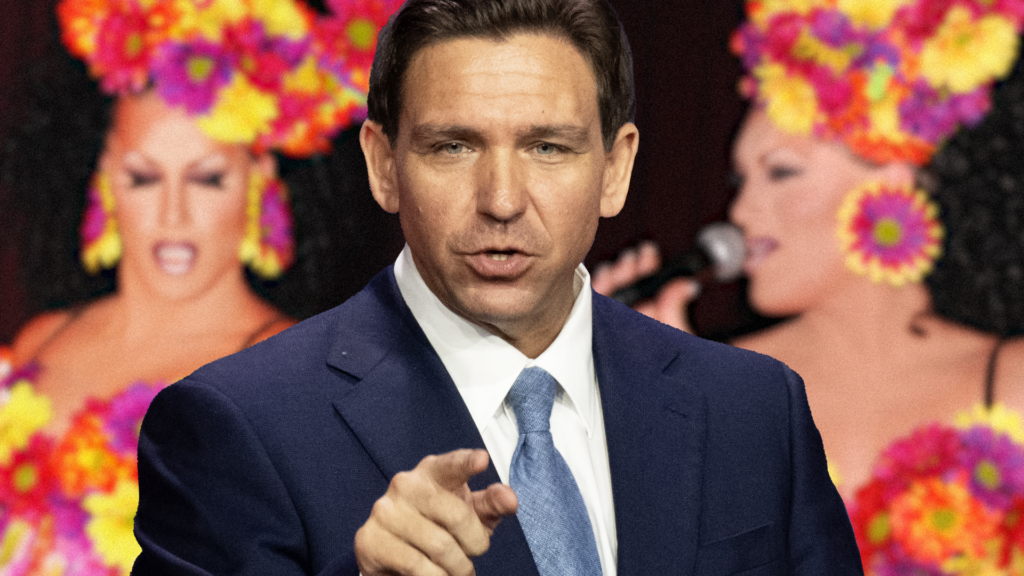 The Controversial Crackdown on Florida Drag Shows by Governor Ron DeSantis
Two days after Christmas last year, Republican Florida Gov. Ron DeSantis' office had a problem. A big problem in big high heels.
That morning, several conservative publications in the state were writing about a bawdy Christmas-themed drag show in Fort Lauderdale where children were present, and there were more upcoming performances in other cities. Florida was supposed to be "where woke goes to die," as the governor liked to say. Yet here were these drag shows.
"Is there any way to stop this from happening tomorrow?" James Uthmeier, DeSantis' former chief of staff, asked in an email, according to public records obtained by Reason.
In response to a public records request from Reason, DeSantis' office released over 12,000 pages of communications to and from key staffers related to its December 2022 crackdown on drag shows. Most of those pages are long spam emails, but the records also show how sensitive the DeSantis administration was to pressure from right-wing influencers and media.
The records show that in December of 2022, DeSantis' office received dozens of emails from constituents demanding that the governor take action to stop drag shows where minors were present. They were particularly incensed by A Drag Queen Christmas, a touring Christmas-themed drag show that had already generated culture war outrage in Tennessee and Missouri for routines like "Screwdolph the Red-Nippled Reindeer."
The governor's staff noted the upcoming events in a Microsoft Word file they apparently used to flag upcoming drag events but otherwise took no other action until December 27. That morning, DeSantis' office received a request for comment from The Florida Standard, a right-wing online news outlet. The Florida Standard is part of a small constellation of right-wing Florida outlets that DeSantis has relied on for friendly headlines and to avoid a mainstream state press corps that he detests.
"I'm working on a story about the drag show in Ft. Lauderdale last night that was advertised for all ages and reportedly had kids in attendance," Zac Howard, a writer for The Florida Standard, wrote.
Howard's email noted a tweet from Roger Stone, an ally of DeSantis' primary opponent, Donald Trump: "DeSantis told us this would NOT happen in Florida. Consenting adults can attend any show they wish but not children."
By 1:30 that afternoon, communications staffers had drafted a press release saying that "public outcry has brought to our attention" the previous night's Fort Lauderdale performance and that the Florida Department of Business and Professional Regulation (DBPR) was actively investigating it. (In fact, the governor's office had flagged the Fort Lauderdale show on December 19, after being sent an email about it by a concerned parent.)
At 2:44 p.m., Uthmeier emailed DBPR Secretary Melanie Griffin and several other staffers in the governor's office.
"I hope you had a nice Christmas," Uthmeier, whose salary was $177,000 a year, wrote. "As we are getting back into the saddle, I'd like to get moving with actions on the drag show front. I understand we've flagged a few recent examples of conduct involving minors but DBPR has not yet taken formal action."
Uthmeier included a hyperlink in his email to another story published that day in The Floridian by Javier Manjarres, a longtime Republican blogger, which alleged that the Fort Lauderdale performance exposed children to simulated sex acts.
"Is there any way to stop this from happening tomorrow?" Uthmeier asked, listing three upcoming Drag Queen Christmas shows in Miami, Orlando, and Clearwater.
Staff got to work. Former Communications Director Taryn Fenske ($160,000 a year) emailed a list of "a few links that will be helpful," which included tweets about the Fort Lauderdale performance from Rep. Marjorie Taylor Greene (R–Ga.) and the influential right-wing account Libs of TikTok.
One staffer also noted that some of the venues were government entities or government-adjacent, opening them up to further retaliation. "The Broward Center operates adjunct to Broward County as an independent special district. Specifically authorized by the legislature," Cody Farrill, then DeSantis' director of cabinet affairs, wrote. "Seems like we've seen this before."
Farrill is referencing when the Florida Legislature dissolved Disney's special district after the company criticized the state's so-called "Don't Say Gay" law.
By 7:49 p.m., the DBPR had finalized a cease and desist letter to the venues hosting upcoming performances of A Drag Queen Christmas, warning that "sexually explicit drag show performances constitute public nuisances, lewd activity, and disorderly conduct" under state law if children are allowed to attend.
The records show a sharp contrast in tone between the original draft and the final version.
"The Department is notifying you of these requirements and penalties merely in an informative capacity," the draft reads. "Again, the Department recognizes and expresses its gratitude that you have taken steps to protect minors through the imposition of an enforced age limit for admission to this drag show. We wish you the best of luck in your future business endeavors and hope that you continue to prioritize the well-being of Florida's children."
Well-wishes are replaced by threats in the final version: "To avoid action being taken against your license, it is your obligation to ensure that minors are prohibited from attending the Drag Fans drag show. If minors are allowed to attend this drag show, the Department will take any and all actions available to ensure that you do not pose a threat to minors in the future."
In February, the DeSantis administration made good on its threats and filed a complaint to revoke the liquor license of the Orlando Philharmonic Plaza Foundation after a state investigation concluded that the venue had illegally exposed minors to sexual acts.
However, the Miami Herald later reported that state investigators at the show observed several minors in attendance but found nothing illegally lewd onstage.
"Besides some of the outfits being provocative (bikinis and short shorts), agents did not witness any lewd acts such as exposure of genital organs," the investigators wrote in their report. "The performers did not have any physical contact while performing to the rhythm of the music with any patrons."