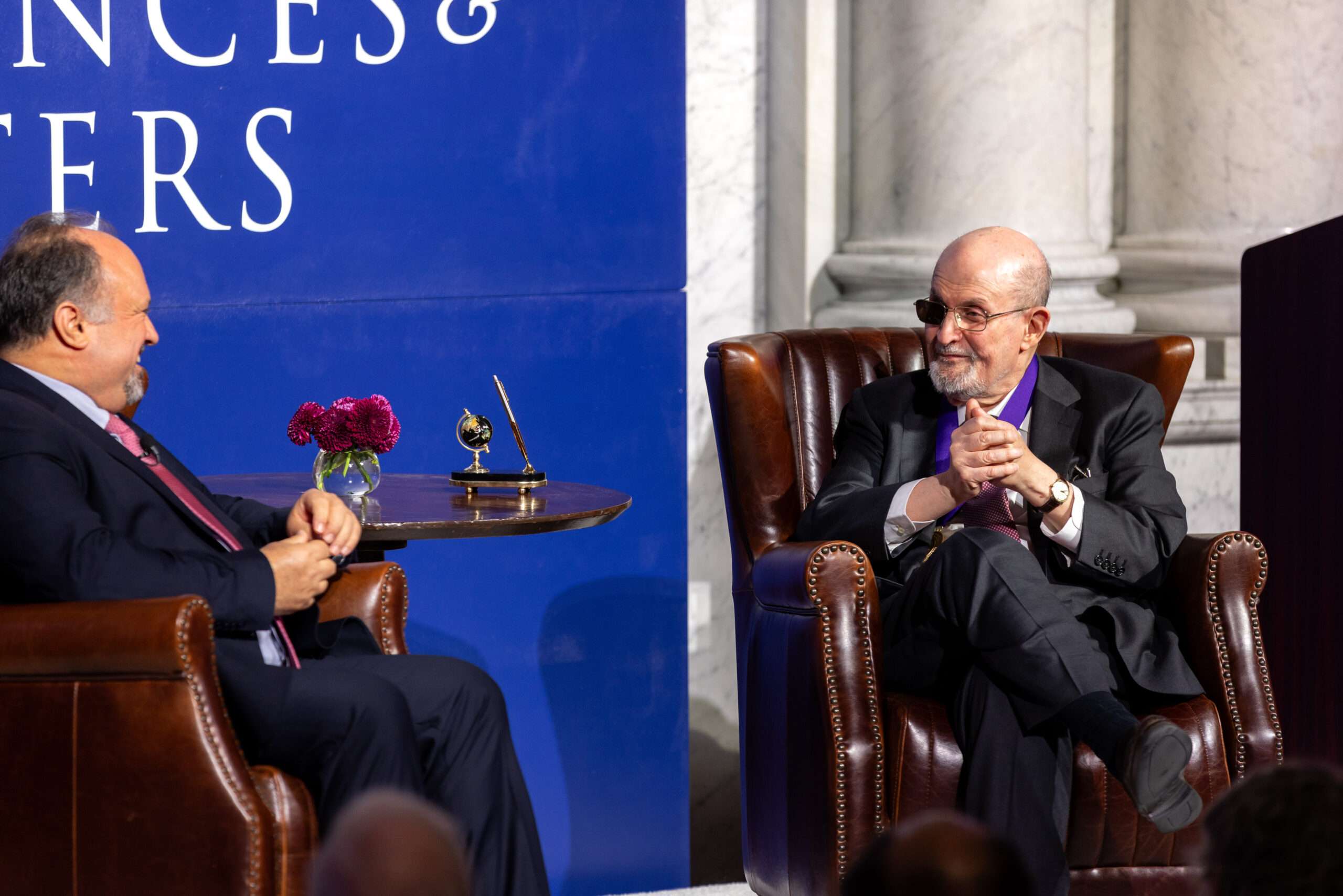 The Potent Force of Literature and the Vulnerability of Writers
"In the free speech field, you find yourself constantly defending stuff that you really don't like," author Salman Rushdie said during an interview with Princeton University professor Bernard Haykel on Wednesday night. "You defend it not as itself but for its right to be."
"I think if we give up that principle, we're losing something very, very important," he continued. "If we can't trust ourselves as a culture to accommodate ideas we don't like, then our ideas lose their value as well, because they become authoritarian."
Rushdie spoke at the inaugural gala of the American Academy of Sciences and Letters (AASL), a new academic association formed to promote "excellence in scholarship, independence of mind, and intellectual courage," according to a Thursday press release. The event, which took place at the Library of Congress, was one of Rushdie's first onstage appearances since he was brutally stabbed last August.
"The only reason to write is because you cannot avoid doing so because the book feels so necessary to you—not to the world, to you—that you have to. Those are the books to write," Rushdie said. "It takes a long time to write a book, and a very short time for it to be dismissed."
Rushdie's best-known novel, The Satanic Verses, was published in 1988, and is partially inspired by the life of Muhammad. The book sparked widespread outrage in much of the Muslim world, culminating in the 1989 fatwa issued by Iranian Ayatollah Khomeini against Rushdie and his publishers, calling on Muslims to kill him and those involved in producing the novel.
In the decades that followed, Rushdie has faced frequent serious threats of violence—most notably, he was forced to live under British police protection and in various safe houses for several years. Last August, Rushdie was nearly killed when he was stabbed multiple times while giving a public lecture.
"A unifying thing of all the people who had led the attack on The Satanic Verses was that they had not read it," Rushdie said. "If you look at the attacks on works of literature, they're almost always conducted by people who haven't read them…So this book that was attacked, in a way, didn't exist."
Rushdie emphasized how literature can endure in the face of censorship, but that writers themselves often fall victim to state repression.
"The poet Ovid was exiled by Augustus Caesar to this dump on the Black Sea, spends his life pleading to be allowed to come back to Rome, never allowed to do so," Rushdie said. "The poetry of Ovid has outlasted the Roman Empire."
At the gala, AASL awarded Rushdie the first Robert J. Zimmer Medal for Intellectual Freedom. The award, named after the late University of Chicago president, will be conferred annually upon an individual "who displays extraordinary courage in the exercise of intellectual freedom," according to the AASL. The AASL awarded 10 additional prizes to scholars including New York University professor Jonathan Haidt and Princeton legal scholar Robert P. George.
"You are all familiar with the decades of death threats and violence [Rushdie] has faced with resolute courage," said AASL President Donald W. Landry on Wednesday. "His refusal to be silenced or deflected has inspired millions around to world, providing a model for us all. His example reminds us that the only thing more costly than standing up for intellectual freedom would be failing to make that stand."
"Literature is powerful, writers are fragile," Rushdie said. "Of course, we need to defend literature itself. But we actually need to defend the writers because they are more vulnerable."