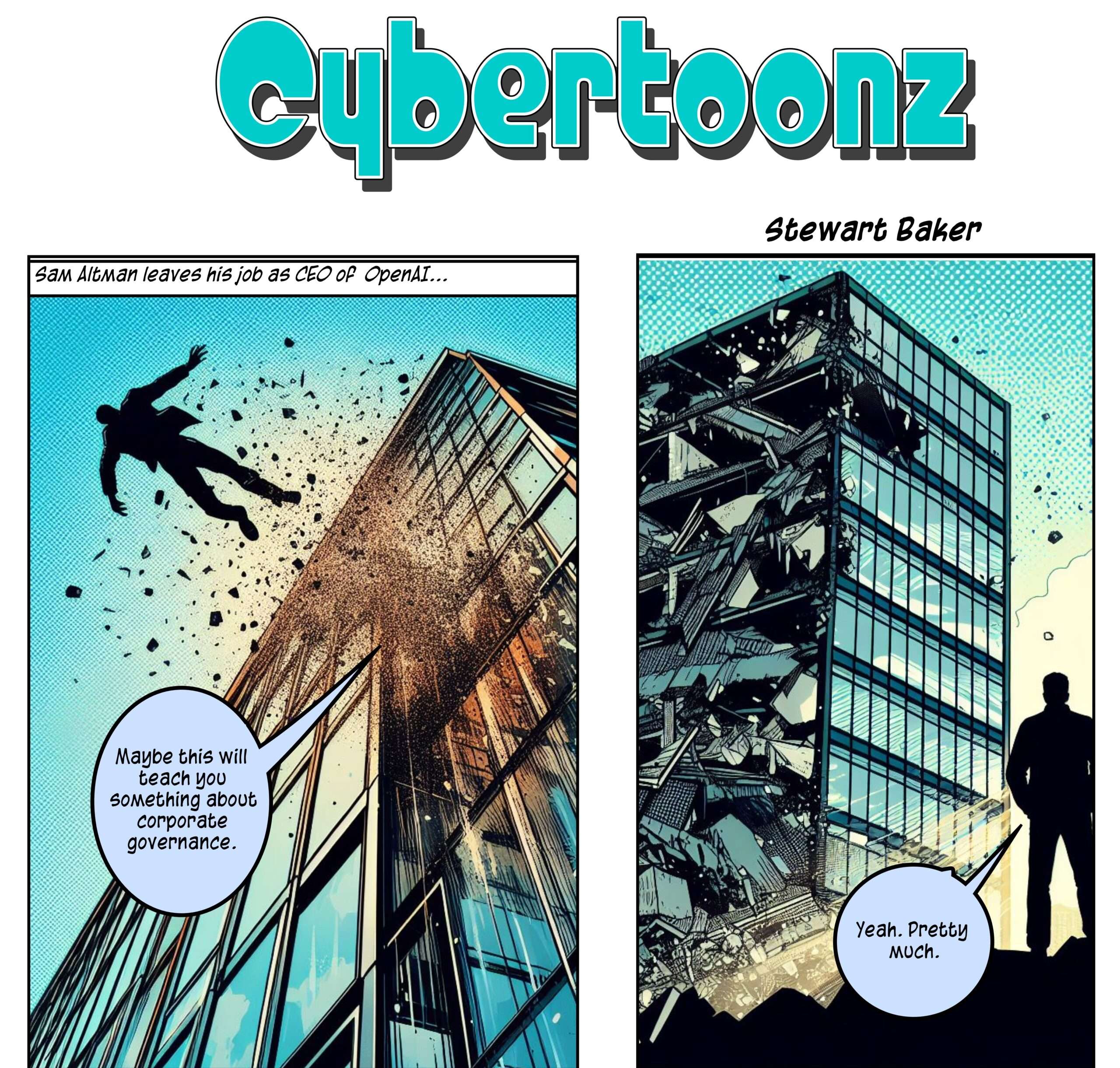 The Unusual Incident of Defenestration at OpenAI Headquarters
In this episode, Paul Rosenzweig brings us up to date on the debate over renewing section 702, highlighting the introduction of the first credible "renew and reform" measure by the House Intelligence Committee. I'm hopeful that a similarly responsible bill will come soon from Senate Intelligence and that some version of the two will be adopted. Paul is less sanguine. And we all recognize that the wild card will be House Judiciary, which is drafting a bill that could change the renewal debate dramatically.
Jordan Schneider reviews the results of the XI-Biden meeting in San Francisco and speculates on China's diplomatic strategy in the global debate over AI regulation. No one disagrees that it makes sense for the U.S. and China to talk about the risks of letting AI run nuclear command and control; perhaps more interesting (and puzzling) is China's interest in talking about AI and military drones.
Speaking of AI, Paul reports on Sam Altman's defenestration from OpenAI and soft landing at Microsoft. Appropriately, Bing Image Creator provides the artwork for the latest Cybertoonz commentary.
Nick Weaver covers Meta's not-so-new policy on political ads claiming that past elections were rigged.
I cover the flap over TikTok videos promoting Osama Bin Laden's letter justifying the 9/11 attack.
Jordan and I discuss reports that Applied Materials is facing a criminal probe over shipments to China's SMIC.
Nick reports on the most creative ransomware tactic to date: compromising a corporate network and then filing an SEC complaint when the victim doesn't disclose it within four days. This particular gang may have jumped the gun, he reports, but we'll see more such reports in the future, and the SEC will have to decide whether it wants to foster this business model.
I cover the effort to disclose a bitcoin wallet security flaw without helping criminals exploit it.
And Paul recommends the week's long read: The Mirai Confession – a detailed and engaging story of the kids who invented Mirai, foisted it on the world, and then worked for the FBI for years, eventually avoiding jail, probably thanks to an FBI agent with a paternal streak.
Download 482nd Episode (mp3)
You can subscribe to The Cyberlaw Podcast using iTunes, Google Play, Spotify, Pocket Casts, or our RSS feed. As always, The Cyberlaw Podcast is open to feedback. Be sure to engage with @stewartbaker on Twitter. Send your questions, comments, and suggestions for topics or interviewees to CyberlawPodcast@gmail.com. Remember: If your suggested guest appears on the show, we will send you a highly coveted Cyberlaw Podcast mug! The views expressed in this podcast are those of the speakers and do not reflect the opinions of their institutions, clients, friends, families, or pets